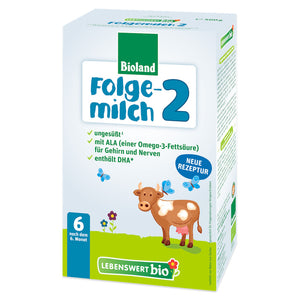 Lebenswert stage 2 Follow on formula (6+ months)
$39499 CAD

$394.99 CAD

Save $40 CAD
Tax included.
---
---
After the 6th month
1 box includes 1 sealed bag and a measuring scoop
500g (makes approximately 3800ml of mixed formula)
Easy preparation
Easy to digest
Bioland Certified Milk
Lebenswert Formula Stage 2 is suitable from 6 months and is ideal for supplementing with breast milk or exclusive bottle-feeding. Lebenswert ensures that each stage is formulated to meet the nutritional needs of your baby. Made with carefully selected ingredients and high quality Bioland milk from Germany. This follow on formula is full of minerals and vitamins. It contains important ingredients, such as organic vegetable oils, which provide essential fatty acids. After the 10th month, it is recommended to advance to Lebenswert Formula Stage 3.

Lebenswert Bio was introduced to the European baby food market in 2009 by Holle, to provide additional healthy organic baby food options. Lebenswert formulas are made with organic milk that adheres to the strict guidelines of Bioland. In this method of organic farming, animals, plants and soil are respected and valued. Organic Bioland farmers stand for species-appropriate stockbreeding, plant protection, and soil fertilization without chemical or synthetic agents. Instead, natural compost is used rather than artificial fertilizers. Food that is produced this way is sustainable and gentle on the environment. For more than 45 years, Bioland members and their association have been developing an ecologically, economically and socially acceptable alternative to intensive agriculture. There are currently more than 7,000 Bioland farmers which all have one daily work goal, to provide sustainable production of high-quality and healthy food. Bioland develops solutions for today's challenges as well as future sustainability. Lebenswert Bio baby formula is comprehensively checked and tested by the certified farmer from the processing to the finished product and is certified with the green EU-bio logo visible on each formula box. Lebenswert Bio provides the basis for a complete and nutritionally balanced formula with high-quality baby milk. You can rest assure that when you choose Lebenswert formula for your baby there are no additives or preservatives used in the formula.


No GMOs
No added flavors or colors
No added preservatives
Strictly pollutant-controlled
No chemical-synthetic fertilizer
Natural compost instead of artificial fertilizer

Ingredients:
Skimmed milk*, whey powder* (partially demineralized), vegetable oils* (palm oil*, rapeseed oil*, sunflower oil*), maltodextrin*, starch*, L-tyrosine, potassium chloride, fish oil2 , calcium chloride, magnesium chloride, calcium carbonate, calcium hydroxide, L-tryptophan, sodium chloride, iron lactate, vitamin C, zinc sulfate, copper sulphate, vitamin E, niacin (B3) pantothenic acid (B5), vitamin B1, vitamin A, vitamin B6, magnesium sulphate, potassium iodate, folic acid, sodium selnate, vitamin K, vitamin D, biotin, vitamin B12
*From certified organic farming.
2 Contains DHA (required by law for infant formula).
---
We Also Recommend
---