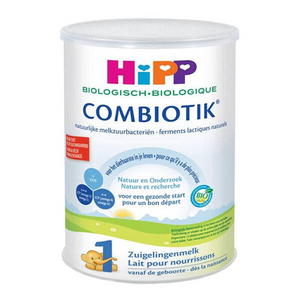 Hipp Dutch stage 1 First infant formula (0+ months)
$31000 CAD

$310.00 CAD

Save $21.22 CAD
Tax included.
---
---
Organic Dutch HiPP Stage 1 European Baby Formula

Organic Dutch HiPP Stage 1 is a nutritionally complete, whey based, gentle infant formula that is specially formulated using the finest organic milk. Contains lactose as the only carbohydrate and contains natural lactic acid cultures that is similar to breast milk. For ages 0 - 6 months

1 container contains 800g (approximately 6200ml or 210 fluid US ounces of prepared formula)
Made in Germany for the Dutch market
Contains:
Prebiotic fibers (modeled in breast milk) to support healthy intestinal flora
LCP (Omega 3 & 6)
Vitamins and Minerals (see ingredients below)
Does NOT Contain:
No maltodextrin, soy, gluten, or starch
No gluten or starch which allows for easier digestion
No eggs or peanuts
No steroids, hormones, antibiotics, or GMO ingredients
No added sugar, wheat, or preservatives
Ingredients:
Skimmed milk*, whey product*, vegetable oils*, (palm oil*, rapeseed oil*, sunflower oil*), lactose*, galacto-oligosaccharides from lactose, fish oil1, calcium chloride, potassium citrate, Mortierella alpina-oil, choline, sodium citrate, L-phenylalanine, calcium salts of orthophosphoric acid, L-tryptophan, magnesium sulfate, calcium carbonate, L-histidine, zinc sulphate, ferrous sulphate, lactic acid stabliser, vitamin C, natural lactic acid culture (Lactobacillus fermentum hereditum®)2, vitamin E, niacin, pantothenic acid, cupric sulphate, vitamin A, vitamin B1, potassium iodate, vitamin B6, folic acid, sodium selenate, vitamin K, manganese sulphate, vitamin D, D-biotin, vitamin B12
* from organic production
1 contains DHA (as required by law for all infant formula)
2 from certified sustainable production
3 Lactobacillus fermentum CECT5716


 Tins are shipped in new, non-dented, condition. However, they have a relatively soft casing and can dent easily while in transit. Hipp states that it is completely safe to use formula from a dented tin as long as the seal is unbroken and it has remained air-tight prior to opening.
---
We Also Recommend
---