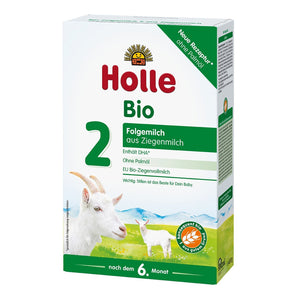 Holle stage 2 Follow on goat formula (6+ months)
$51099 CAD

$510.99 CAD

Save $1 CAD
Tax included.
---
---
From the 6th month
1 box includes 1 sealed bag
400g (makes approximately 3000ml of mixed formula)
Easy to digest
Gluten Free

No added sugar
No palm oil

DHA included
Easy preparation
EU organic certified
Holle goat Milk Formula Stage 2 is suitable from 6 months and is ideal for supplementing with breast milk or exclusive bottle-feeding. Holle ensures that each stage is formulated to meet the nutritional needs of your baby. Made with carefully selected ingredients and high-quality EU organic goat milk. The EU Organic logo guarantees strict adherence to EU organic regulations and the careful processing of raw materials used. Their formulas are derived from 99% organically grown ingredients and the remaining 1% are vitamins and minerals, which are necessary for a baby's development. The addition of starch in stage 2 is added to make the formula creamy and filling. Other important ingredients include organic vegetable oils, which provide essential fatty acids. After the 10th month, it is recommended advance to Holle goat Milk Formula Stage 3.

Holle is one of the oldest baby formula manufacturers in Europe with 80 years of history and the highest standards in the world. One of the first to be certified as a Demeter company and is now one of the leading Demeter certified baby food manufacturers. Demeter farms work in harmony with nature in a biodynamic manner with respect to plants and animals. Farmers raise their animals on organic local farms in humane and caring environments. Allowing cows to freely roam and graze on the lush European biodynamic fields and pastures. They refrain from painful procedures, such as de-horning the cows, which affects their digestive process. Not only does keeping the horns avoid causing pain to the cows but it also helps them maintain the milks quality and aids in their metabolism. Holle's ingredients and all Demeter farms are controlled annually to guarantee the highest possible safety. Holle's criteria extend far beyond the standard organic certification and their ingredient transparency is key when making their formulas.


No steroids, hormones, antibiotics, or GMO ingredients
No added egg, wheat, fluoride or preservatives
Does NOT contain Brown rice syrup, or DHA-ARA
Highest European Organic standards

Ingredients:
Whole goat milk powder* 38.5%, maltodextrin*, vegetable oil* (sunflower oil*, rapeseed oil*), lactose*, starch*, L-choline, calcium carbonate, calcium hydroxide, calcium citrate, algenol2, L-cystine, iron sulphate, magnesium chloride, vitamin C, L-tryptophan, L-tyrosine, sodium citrate, sodium chloride, iron lactate, inositol, vitamin E, zinc sulphate, niacin (B3), pantothenic acid (B5), copper sulphate, vitamin A, vitamin B1, vitamin B6, folic acid, vitamin B2, manganese sulphate, potassium iodate, vitamin K, sodium selenite, vitamin D3, biotin, vitamin B12
* from organic farming
2 Contains DHA (required by law for infant formula)
Allergen declaration: Contains milk

Country of origin of the main ingredients: Austria

---
We Also Recommend
---