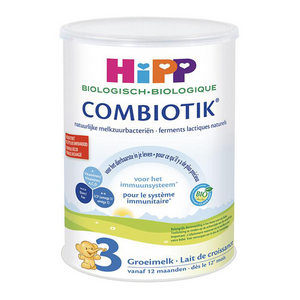 Hipp Dutch stage 3 Growing up formula (12+ months)
$31000 CAD

$310.00 CAD

Save $21.22 CAD
Tax included.
---
---
Organic Dutch HiPP Stage 3 European Toddler Formula

Organic Dutch HiPP Stage 3 has all the ingredients your growing toddler needs to grow strong and healthy such as iron, vitamins A, C, and D. Vitamin D is essential for calcium absorption and bone growth. Omega 3 (ALA) helps with brain and eye development. For ages 12+ months

1 container contains 800g (approximately 6680 ml or 226 fluid US ounces of prepared formula)
Made in Germany for the Dutch market
Contains:
Prebiotic fibers (modeled in breast milk) to support healthy intestinal flora
LCP (Omega 3 & 6)
Vitamins and Minerals (see ingredients below)
Soy lecithin
Does NOT Contain:
No maltodextrin, gluten, or starch
No gluten or starch which allows for easier digestion
No eggs or peanuts
No steroids, hormones, antibiotics, or GMO ingredients
No added sugar, wheat, or preservatives
Ingredients:   
Skimmed milk*, lactose*, vegetable oils*, (palm oil*, rapeseed oil*, sunflower oil*), whey product*, galacto-oligosaccharides from lactose, fish oil1, vitamin, potassium citrate, calcium carbonate, calcium salts of orthophosphoric acid, calcium chloride, sodium citrate, magnesium carbonate, L-tryptophan, ferrous sulphate, lactic acid stabliser, vitamin E, natural lactic acid culture (Lactobacillus fermentum hereditum®)2, zinc oxide, niacin, pantothenic acid, copper sulphate, vitamin A, vitamin B1, vitamin B2, vitamin B6, potassium iodate, folic acid, vitamin B12, sodium selenate, manganese sulphate, D-biotin, vitamin D, vitamin K.
* from organic production
1 contains DHA (as required by law for all infant formula)
2 Lactobacillus fermentum CECT5716

Tins are shipped in new, non-dented, condition. However, they have a relatively soft casing and can dent easily while in transit. Hipp states that it is completely safe to use formula from a dented tin as long as the seal is unbroken and it has remained air-tight prior to opening.

---
We Also Recommend
---